Overview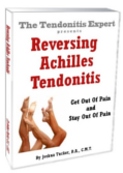 Achilles tendonitis is one of the most common running injuries. The achilles tendon is the large tendon at the back of the ankle. It connects the calf muscles made up of the gastrocnemius and soleus to the heel bone or calcaneus. It provides the power in the push off phase of walking and running where huge forces are transmitted through the achilles tendon. Achilles tendonitis is often now referred to as achilles tendinopathy. This is because the term tendinopathy covers all types of overuse achilles tendon injury. Strictly speaking tendonitis suggests an inflammatory condition of the tendon but in reality few achilles tendon injuries are actually down to pure inflammation. Soleus muscleThe main finding, particularly in older athletes is usually degeneration of the tissue with a loss of normal fibre structure. Other very similar conditions may actually be due to inflammation or degeneration of the tendon sheath which surrounds the tendon rather than the achilles tendon itself. In addition to being either chronic or acute, achilles tendonitis can also be at the attachment point to the heel called insertional achilles tendonitis or in the mid-portion of the tendon typically around 4cm above the heel. Healing of the achilles tendon is often slow, due to its poor blood supply.
Causes
There are a number of causes and risk factors associated with Achilles Tendinitis. One of the most common causes is simply a lack of conditioning. If the tendon, and muscles that connect to the tendon, have not been trained or conditioned, this can lead to a weakness that may result in an Achilles injury. Overtraining is also associated with Achilles Tendinitis. Doing too much, too soon places excessive strain on the Achilles tendon and doesn't allow the tendon enough time to recovery properly. Over time small tears and general degeneration result in a weakening of the tendon, which leads to inflammation and pain. Other causes of Achilles injury include a lack of warming up and stretching. Wearing inadequate footwear, running or training on uneven ground, and simply standing on, or in something you're not meant to. Biomechanical problems such as high arched feet or flat feet can also lead to Achilles injuries.
Symptoms
Achilles tendonitis may be felt as a burning pain at the beginning of activity, which gets less during activity and then worsens following activity. The tendon may feel stiff first thing in the morning or at the beginning of exercise. Achilles tendonitis usually causes pain, stiffness, and loss of strength in the affected area. The pain may get worse when you use your Achilles tendon. You may have more pain and stiffness during the night or when you get up in the morning. The area may be tender, red, warm, or swollen if there is inflammation. You may notice a crunchy sound or feeling when you use the tendon.
Diagnosis
Confirming Achilles tendonitis may involve imaging tests. X-rays provide images of the bones of the foot and leg. Magnetic resonance imaging (MRI) is useful for detecting ruptures and degeneration of tissue. Ultrasound shows tendon movement, related damage, and inflammation.
Nonsurgical Treatment
Wear shoes with a low half-inch to one-inch heel that are somewhat flexible through the ball of the foot. Avoid flat footwear such as slippers or sandals and stiff shoes. Add a heel lift in your shoe. You may also use arch support inserts or orthotic insoles. Heel lifts and orthotics can be purchased at many of our pharmacies and Podiatry departments. Avoid standing or walking barefoot. Perform calf-stretching exercises for 30 to 60 seconds on each leg at least 2 times a day. Stand an arm?s length away from a wall, facing the wall. Lean into the wall, stepping forward with one leg, leaving the other stretched behind you. The leg behind you is the one being stretched. Keep this leg straight (locked) and the toes pointed straight at the wall. Stretch forward until you feel tightness in the calf of your back leg. Hold this position without bouncing for 30 to 60 seconds. Repeat for the opposite leg. Do stair exercises every day. Stand facing the stairs with the ball of your foot on a stair and your heel hanging off. Balance on one foot at a time while holding onto the rail. Slowly lower your heel as low as it will drop down and then slowly raise it up as high as you can lift it. Repeat this exercise slowly several times on each foot. Perform this exercise every other day, gradually increasing the number of repetitions over time as tolerated. If you are overweight, talk to your personal physician about resources that can help you lose weight. Carrying excess weight places additional pressure on your feet. Decrease the time that you stand, walk, or engage in exercises that put a load on your feet. Switch to a nonimpact form of exercise until your tendon heals, such as swimming, pool running, and using an elliptical trainer.
Surgical Treatment
Percutaneous Achilles Tendon Surgery. During this procedure the surgeon will make 3 to 4 incisions (approx. 2.5 cm long) on both sides of the Achilles tendon. Small forceps are used to free the tendon sheath (the soft tissue casing around your Achilles tendon) to make room for the surgeon to stitch/suture any tears. Skilled surgeons may perform a percutaneous achilles tendon surgery with ultrasound imaging techniques to allow for blink suturing with stab incisions made by a surgical suture needle. This procedure can be done in 3 different ways depending on the preference and experience of your surgeon. Instead of making several 2.5 cm incisions for this procedure, some surgeons will use guided imaging with an ultrasound to see the Achilles tendon tissue without having to open up your ankle. For this technique, they will use a surgical needle to repeatedly stab your Achilles tendon. These "stab incisions" will allow the surgeon to "blindly" suture your tendon without seeing the actual tissue. As another option - some surgeons will only make 1 to 3 incisions for smaller surgical implements to repair your tendon while relying on imaging ultrasound to see your damaged tissue. During either procedure the use of ultrasound imaging or endoscopic techniques requires a very skilled surgeon.
Prevention
Stretching of the gastrocnemius (keep knee straight) and soleus (keep knee bent) muscles. Hold each stretch for 30 seconds, relax slowly. Repeat stretches 2 - 3 times per day. Remember to stretch well before running strengthening of foot and calf muscles (eg, heel raises) correct shoes, specifically motion-control shoes and orthotics to correct overpronation. Gradual progression of training programme. Avoid excessive hill training. Incorporate rest into training programme.